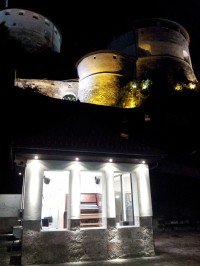 Heldenorgel in Kufstein, Austria
Two Performances in Austria
Chelsea performed on the outdoor Heldenorgel in the fortress of Kufstein on July 12th and at the Stadtpfarrkirche in Schwaz on July 16th.
The program for Kufstein: http://www.kufstein.at/gemeindeamt/download/223361475_1.pdf.
The program for Schwaz: http://www.schwazer-sommerkonzerte.at/orgelfest.php
She has now performed on the two largest outdoor organs of the world (Kufstein's Heldenorgel and San Diego's Spreckels Organ).