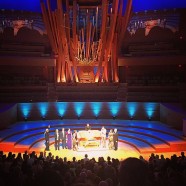 Disney Hall Los Angeles, CA
Disney Hall 2014
Chelsea Chen and Christoph Bull performed a "lavishly organ-intensive" transcription of Ravel's Bolero to a packed house at Disney Hall on November 23, 2014.  The blockbuster celebration of "Hurricane Mama's" 10th birthday also featured Ken Cowan, Cherry Rhodes, Fred Swann, Carol Williams, Aaron David Miller, and Cameron Carpenter.   Nationally-renowned radio host Michael Barone of Pipedreams was the master of ceremonies; organ curator Phil Smith and organ builders Manuel Rosales and Caspar von Glatter-Götz were honored for their work on the Disney Hall organ.
Check out photos from the concert in the gallery.
Listen to the complete concert on Pipedreams here.