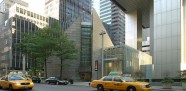 St. Peter's Church New York, NY
Bach Marathon – Nov. 22, 2014
Chelsea will perform a 75-minute all-Bach program hosted by WQXR at St. Peter's, 54th and Lexington, in Manhattan on Saturday, Nov. 22nd @ 12pm.
The program: 
Toccata, Adagio, and Fugue, BWV 564
Leipzig Chorales BWV 653, 654
'Legrenzi' Fugue in C Minor, BWV 574
Kirnberger Chorales BWV 711, 712, 713
Trio Sonata in E Minor, BWV 528
"O Mensch bewein", BWV 622
Prelude and Fugue in D Major, BWV 532
Check out this page for the full Bachathon schedule. #bachstock  #WQXR
Tickets can be purchased here.