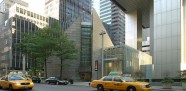 St. Peter's Church New York, NY
Bach Marathon – Nov. 22, 2014
Chelsea will perform a 75-minute all-Bach program hosted by WQXR at St. Peter's, 54th and Lexington, in Manhattan on Saturday, Nov. 22nd @ 12pm.
The program: 
Toccata, Adagio, and Fugue, BWV 564
Leipzig Chorales BWV 653, 654
'Legrenzi' Fugue in C Minor, BWV 574
Kirnberger Chorales BWV 711, 712, 713
Trio Sonata in E Minor, BWV 528
"O Mensch bewein", BWV 622
Prelude and Fugue in D Major, BWV 532
Check out this page for the full Bachathon schedule. #bachstock  #WQXR
Tickets can be purchased here.
Oct. 26 Concert at First Presbyterian, Ft. Lauderdale, 7pm
http://www.southflorida.com/music/sf-lauderdale-presbyterian-chelsea-chen-20141022,0,6858399.story
A world-renowned organist and part-time Fort Lauderdale resident will give a free concert Sunday, Oct. 26, performing works by George Gershwin, French classics and an original composition based on Taiwanese folk songs.
Chelsea Chen, 30, began serving as artist-in-residence at Coral Ridge Presbyterian in Fort Lauderdale earlier this year, while also having similar duties at Emmanuel Presbyterian Church in Manhattan, her home base.
"There's a lot of that back and forth," says Chen, who stays with church friends when in Florida. "I'm lucky I have nice people down here."
While she says part of her job is caring for the massive 6,600-pipe organ at Coral Ridge Presbyterian, her concert Sunday will be held at First Presbyterian Church. She says she is flying down Thursday to get accustomed to their organ.
Chen was raised in San Diego and moved to New York at 17 to attend Juilliard just before Sept. 11, 2001.
"It affected everybody," she recalls. "You had to really dig deep in your soul and think about what you're doing and why you're doing it. Read more…
Coral Ridge Concert Series Promo Video
AGO National Convention (Boston) – June 27, 2014